As an Amazon Associate I earn from qualifying purchases.
Roadie 2 Automatic Guitar Tuner Review
This has to be the best automatic guitar tuner I have ever used and I want to share with you how easy it is to use and how it will make your tuning worries a thing of the past.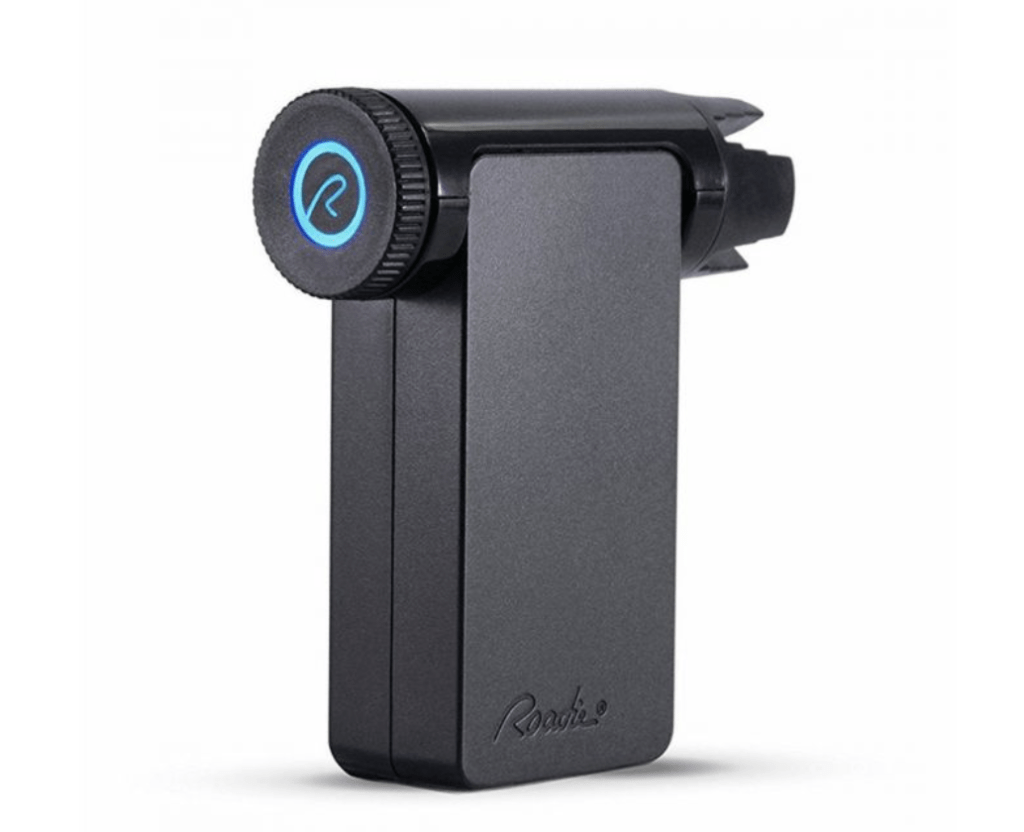 The Smartest Way to Tune
To use Roadie 2 Automatic Guitar Tuner, just select your instrument, place Roadie on the peg, and pluck. Just like that, you're in tune and ready to play.
WORKS ON ALL STRING INSTRUMENTS with a guitar machine head including electric, acoustic, classical, and steel guitars, 6, 7, and 12-string guitars, ukuleles, mandolins, banjos & more (Get Roadie Bass to tune bass guitars too).
FAST, EASY TO USE & LONG-LASTING CHARGE: automatically tunes your instrument in under 30 seconds. Simply place Roadie on the peg, pluck the string and watch it do the rest. Roadie can last as long as 1 month on a single charge and is easily recharged with its USB-C cable (included in the packaging).
BUILT-IN VIBRATION SENSOR FOR ACCURATE TUNING EVEN IN NOISY ENVIRONMENTS: detection accuracy of ±1 cent and tuning accuracy of up to ±2 cents. The accuracy level is the same even in noisy environments, making it perfect for gigs.
CHOOSE FROM 40+ ALTERNATE TUNINGS OR CREATE YOUR OWN: preset tunings include open G, open D, drop D, half step down & much more ++ New tunings available to download! You can also create and save your own custom tunings.
STRING WINDER: built-in wind/unwind feature with 3 controllable speeds for easy re-stringing.
Works on all instruments
Tune all sorts of string instruments including electric, acoustic, classical, and steel guitars, 7 and 12-string guitars, ukuleles, mandolins, banjos, etc. as well as bass guitars with the bass version.
Roadie 2 Guitar Tuner is Accurate
Detection accuracy: Less than +1 cent. Tuning accuracy: Up to +2 cents. The reference A 440 Hz setting is customizable in 1 Hz increments from 420 Hz to 460 Hz.
Nevermind the Noise
Get the same quality and accuracy tuning in noisy environments with Roadie 2's vibration sensor (instead of a microphone).
Standalone
Roadie 2 does not require a mobile phone to work, allowing you to tune whenever you are.
Wind/Unwind
Re-string quickly and easily with the automatic winding feature. The motor rotates at three speeds, the fastest of which is 60 RPM.
Does It Tune With A Capo On?
Yes, You can do this by going to settings then changing it to tune with capo on.
How long does the Roadie 2 battery last?
The Roadie 2 can tune up to 150 strings on one single charge, In human terms you can tune once per day for one month before you would need to recharge
What Alternate Tunings Come Preset In Roadie 2?
Open D
Open G
Open C
Drop D
D Modal
DADGAD
Half Step Down
Drop C
You can create up to 40 presets
Will it work for one step down tuning? ie a 12 string? d a f c g d
Yes it will definitely work for one step down tuning! Roadie 2 gives you the ability to use a variety of preset tunings and instruments in addition to being able to customize your tunings and build custom instruments as well. 
Does it tune left handed guitars?
Yes absolutely! Switch to left hand mode in the Roadie Tuner App and you'll be able to tune left hand guitars with Roadie 2. 
Describe your products in 3 words.
Automatic guitar tuner
How did you come up with the idea for this product?
Four years ago we invented the award winning Roadie Tuner and helped tune more than 2 million strings. After receiving astonishing customer feedback we were more motivated than ever to comeback with an upgraded tuner. Roadie 2 gives musicians the freedom to tune anywhere no matter the noise level and without the need for a smartphone.
What makes your product special?
Roadie 2 completely automates the tuning process, reducing the human error and making tuning a quick, accurate and fun experience. It allows you to tune a wide variety of instruments including guitars, ukuleles, mandolins, banjos and many more. Roadie 2 is an all-in-one tool: a tuner, string winder and the easiest way to explore alternate tunings. This is what makes it a one-of-a-kind product.
What has been the best part of your experience?
The opportunity to contribute and make the world a more musical place is what motivates us everyday. This new generation of Roadie is completely independent of applications and has proven to add convenience to the life musicians. Count on us to keep this promise and stay on the lookout for the next big thing to come out of Band Industries.
Thanks for reading our roadie 2 automatic guitar tuner review
Amazon and the Amazon logo are trademarks of Amazon.com, Inc, or its affiliates.