As an Amazon Associate I earn from qualifying purchases.
ROADIE 3 Guitar Tuner Review| The Number 1 Super Smart Automatic Guitar Tuner, Metronome & String Winder
ROADIE 3 | Smart Automatic Guitar Tuner, Metronome & String Winder | For Electric Guitars, Acoustic Guitars, 12-String Guitars, Ukulele, Banjo, Mandolin | 100+ Alternate Tunings
WORKS ON ALL STRING INSTRUMENTS with a guitar machine head including electric, acoustic and classical guitars with nylon strings, 6, 7, and 12-string guitars, ukuleles, mandolins, banjos, lap steel guitars, bouzouki, mountain dulcimer, santoor, cigar box guitar, violins with planetary pegs, and many more! (Get Roadie Bass to tune bass guitars too).
2x FASTER & EASY TO USE: automatically tunes your instrument in under 30 seconds with a motor speed 2x faster than Roadie 2. Simply place Roadie on the peg, pluck the string and watch it do the rest. ENHANCED TUNING ACCURACY & NOISE IMMUNITY with next-generation vibration detection, allowing you to tune even in noisy environments.
100+ BUILT-IN ALTERNATE TUNINGS so you can easily switch between tunings or create your own custom tunings. CUSTOMIZABLE TUNING SETTINGS: change the A4 reference pitch, tune with a capo on, create custom tunings, change between "Fast Tuning" and "High Accuracy" & more.
BUILT-IN VIBRATION/BEEP METRONOME so that you can set the tempo and feel the beat while playing. RESTRING & TUNE IN ONE SINGLE STEP: changing strings is now a little less tedious. You can quickly wind your new strings and directly tune them to perfection in one go.
FULL COLOR, HIGH RESOLUTION, larger display screen. COMPACT DESIGN and ergonomic grip for a comfortable tuning process. LONG LASTING CHARGE: Roadie can last as long as 1 month on a single charge and is easily recharged with its USB-C cable (included in the box).
You can read our Roadie 2 Guitar Review Here
The GOOD and The BAD – Roadie 3 Review (After 2 Months)
Roadie 3 Automatic Guitar Tuner Features
Here are the Roadie 3's main features:
Motorised automatic tuning
100+ built-in tunings and space to save custom tunings
Works with acoustic guitar, electric guitar, 7 string guitar, 12 string guitar, ukulele, mandolin, banjo
2x faster than the Roadie 2 with a speed of 120 RPM
Optional companion app via Bluetooth (can work fine without it)
Metronome mode
Works in quiet or noisy environments
Re-stringing mode to quickly remove and replace strings
Rechargeable battery with USB-C charging cable included
Color LCD screen
Capo setting to tune with a capo on
Listening accuracy 0.1Hz
Roadie 3 Tutorial – User Manual and Guide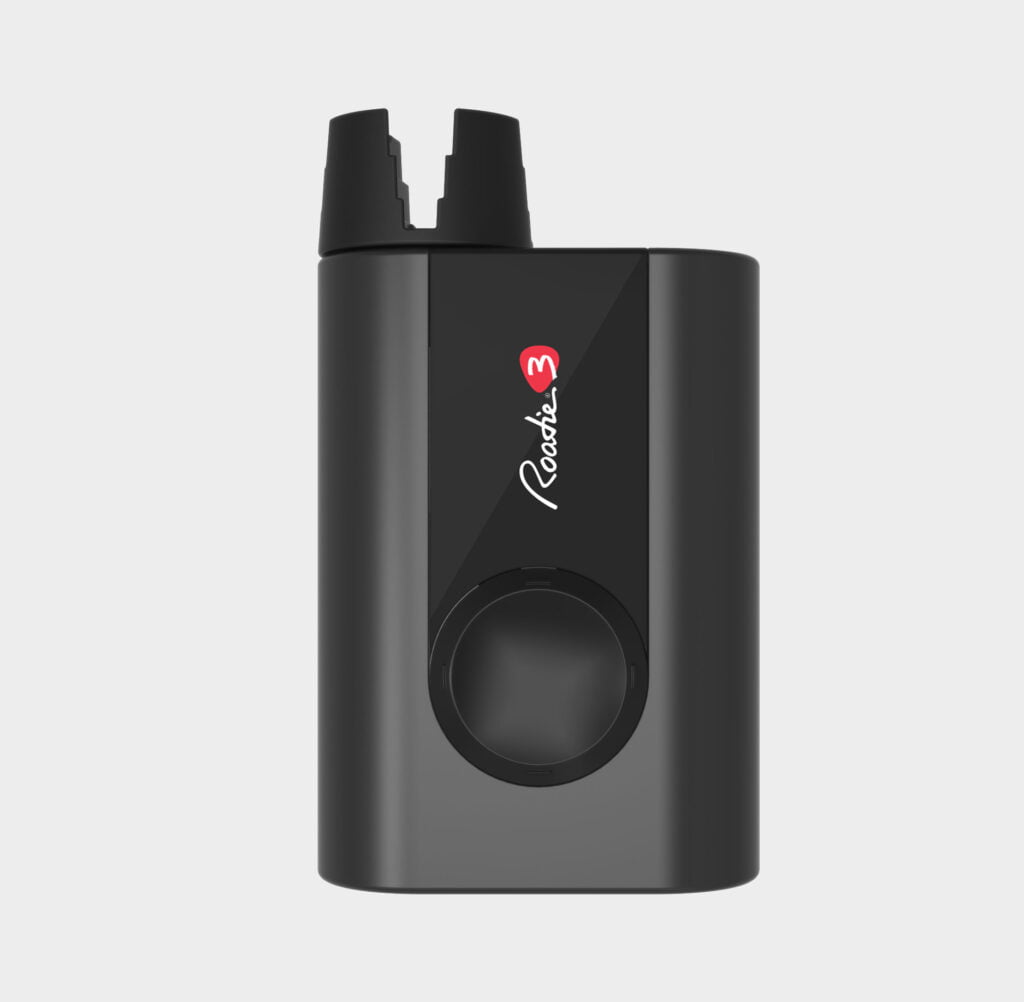 Roadie 3 Tuner Pros
Very fast tuning and easy to use
Great battery life (rechargeable)
Once you set up your instruments, it's quick to switch between tunings as you like
The display is clear and the menus are easy to navigate.
App for multiple tunings and tuning creation/storage
Metronome
I didn't expect to see a metronome feature in the Roadie 3 (the Roadie 2 didn't have one), but it's there if you want it.
On the main menu if you scroll down past tuner, you'll see Metronome followed by Winder, then Settings.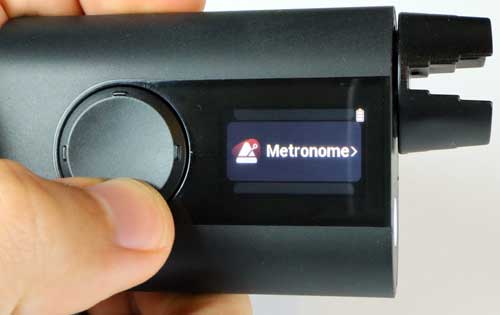 Go into the Metronome menu and it will immediately start counting using beeps and vibration pulses.
You can change all of the settings shown on the below screen: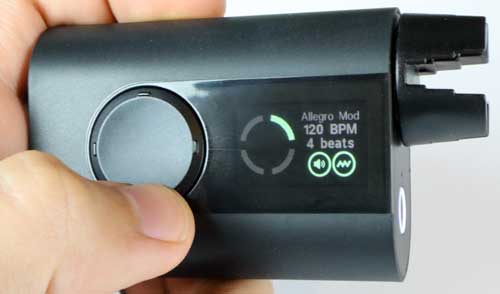 You can turn off the sound or vibration if you want, change the tempo, or change the number of beats between 2-16 (the first beat is emphasized).
While the sound may not be loud enough in a lot of situations, the vibration works surprisingly well. I've never used a metronome with vibration pulses before and it was perfectly useable. You could either rest it on your lap or put it in your pocket while practicing to feel the beat instead of listening for the click of a typical metronome.
String Winder
One feature I really liked with the Roadie 2 was the string winder. This feature will constantly turn in one direction to either completely loosen your strings, or tighten them.
You can control the speed of the Roadie to either rapidly unwind a string, or slowly wind a new string up.
You've probably seen electric string winders like this one and this feature basically adds that into your tuner.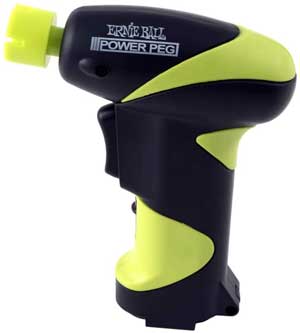 It's a nice feature to have when you want to change your strings and you remember you have it (I often only remember immediately after I finish changing a set of strings).
The string winder make it clear to me how much faster the Roadie 3 is compared to the Roadie 2. The Roadie 2's maximum speed was 60 RPM and the Roadie 3 is 120 RPM. So it should be no surprise that the string winder can go really fast.
At full speed, it completely slackened my low E string in 5 seconds.
If you update the firmware, you can even use the wind/unwind feature in the tuning screen. You hold down the left or right buttons to wind up or down, then let go to stop. This would be a handy way to tune up a new set of strings.
Roadie 3 Compared To Roadie 2
What Instruments Can I Add To The Roadie 3 Guitar Tuner?
Built into the roadie 3 are many instruments including
Acoustic Guitar
Electric Guitar
Classical Guitar
Standard Ukulele
Concert Ukulele
Tenor Ukulele
Baritone Ukulele
Mandolin
Banjo
Can I add custom instruments to the roadie 3 guitar tuner?
Yes you can add your own custom instruments to the roadie 3 tuner as long as they are a stringed instrument you can add them
Where can I buy the Roadie 3 Guitar Tuner?
You can buy it from most online music shops and direct from The Roadie official website, or recently I have seen it on amazon with free shipping https://amzn.to/3fXKP8Y
What is the Roadie 3 guitar tuner price?
Currently it is selling for £142
ROADIE 3 PROS
Portable
Easy To Use
Rechargeable so no more batteries
Long battery life
Customisable
Once you set up your instruments, it's quick to switch between tunings as you like
Made by a company that cares
ROADIE 3 CONS
Price – this is not cheap especially in comparison to clip on chromatic tuners
If you have issues with grip or overall hand strength it could be awkward for you to hold
it's more technology to learn and even though this is easy for most it will never be as simple as using a clip-on or inbuilt guitar tuner.
Occasionally got confused on very low tunings (eg: Drop A on a 7-string guitar)
If a custom tuning isn't on the list, you need to use the app to set it up
Who is The Roadie 3 Guitar Tuner For?
The Roadie Guitar Tuner will thrive when it is used by someone who has multiple guitars and want to tune in multiple tunings, if you play in dadgad and semi tone down and drop C you could have all these preset and ready to go on your roadie.
You would then be able to switch between the tunings very quickly.
Maybe you have a 12 string then this makes it super simple too
Banjo or Ukulele? then again you have this on your roadie in case you have a brain freeze and forget all your different tunings for different instruments.
Who Is The Roadie 3 Automatic Guitar Tuner Not For?
This is not for the guitarist who is just starting or who wants to play in standard tuning only, you would be better with a clip-on tuner like this – https://amzn.to/3cBtQa4 which is only £12.
If you don't have a lot of guitars or you don't use many different tunings, then you won't get the full benefit of the Roadie 3. For example, if you only have one or two guitars and you always stick to standard tuning, you'll be perfectly fine using any other tuner.
Summary
If you are a beginner then get a clip on tuner, if you have multiple instruments and different tunings and are more advanced or developed musician or guitar tech I would say invest into this I love mine and use it daily.
Amazon and the Amazon logo are trademarks of Amazon.com, Inc, or its affiliates.